…three martinis later…
Having fallen down the rabbit hole of non-fungible tokens, decentralization, generative art, and how creative work can be tracked on the blockchain, we began thinking about how it could be applied to animation and production.
In the end we were inspired to build and launch our first line of digital collectibles to jump start a decentralized studio and are inviting other creatives to be holders of the intellectual property as well as drivers of how that IP is expressed and developed.
Meet the Bar Bots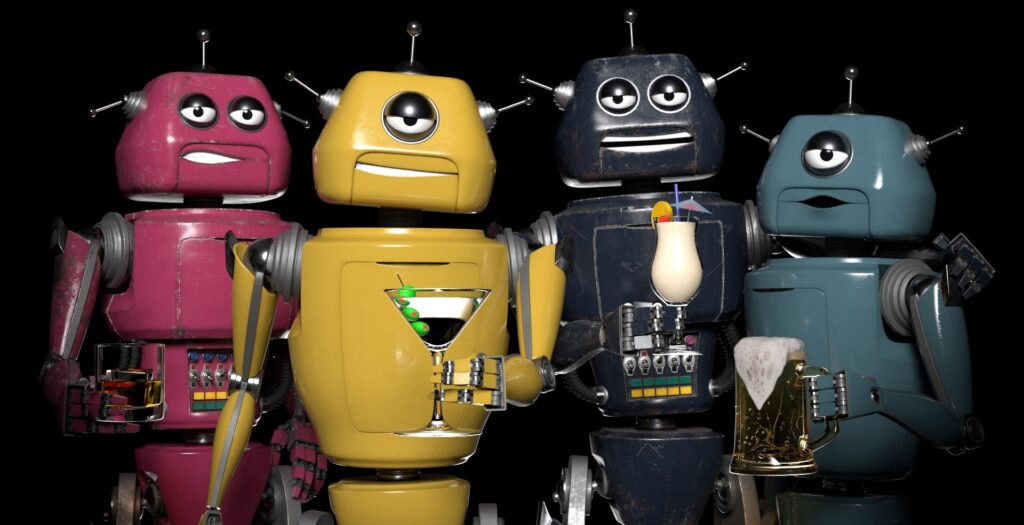 Characters first…
At the heart of storytelling and animation are interesting characters, and a generative profile picture collection, or PFP, is just that, an algorithmic creation of unique characters. These are the crypto native characters, that in addition to being assembled with visual traits embedded into their metadata, will also be imbued with non-visual personality traits. Not only can these traits be used to inspire narrative expressions but also can trigger in-game mechanics. Exactly all the different ways these traits will be utilized will be discovered as the characters and assets are developed in different formats.
Intellectual Property Rights
Creators making artwork connected to the blockchain have been experimenting with how commercial licensing and rights are granted. Each artist or project can choose the licensing options that work best for them. The range varies from projects that only allow holders to display the artwork in non commercial settings, to BAYC or VOID who offer full commercial rights to holders, and then CrypToadz or Nouns whose artwork and IP is Creative Commons Zero, or CC0, which means it is in the public domain. We are zeroing in on our license philosophy but believe for a decentralized studio to be successful, it should grant holders commercial rights with attribution back to the brand.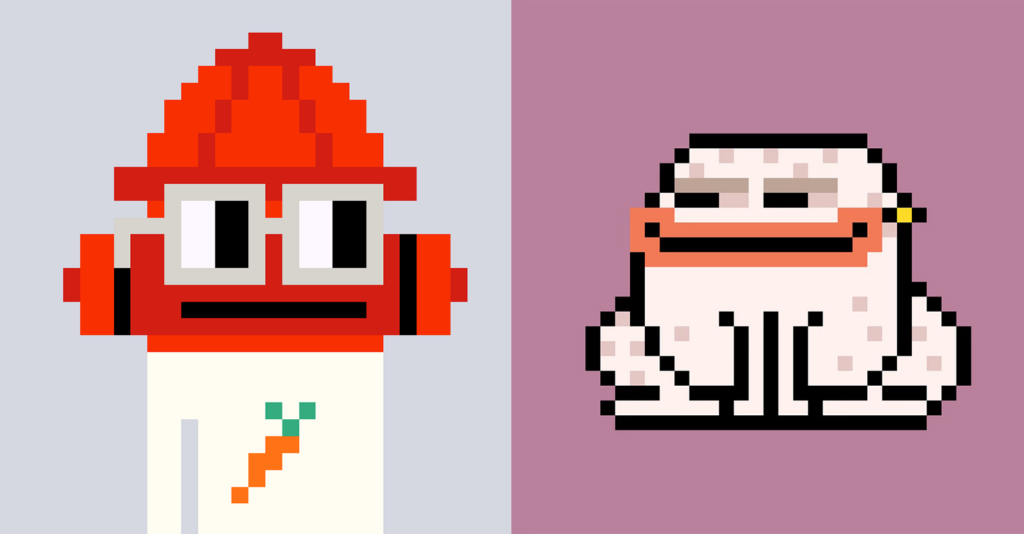 Collectible Useable Assets
When thinking about launching a project that would be the basis for this production entity, we knew we needed to make a token that was not just visually unique, but was also connected to a digital asset that we would want to play with. Something we could animate with. So the PFP will unlock the matching digital asset and grant access to tools and content streams.
We first built with high end creatives in mind and started with an industry standard animation rig, animatable in Autodesk Maya. We also ensured the asset can easily work into an Unreal Engine pipeline. But we are aware that not all collectors will be animators, so the plan is to make the asset easier and easier to use, so that anyone with a smartphone can access it as an avatar in video calls or with any AR or VR app. The thing about starting with quality 3D geometry is that the possibilities of where you can take it or how you can use it are endless.
But our goal is to not just make a collectible, but characters that owners can create content with. So starting with short form content we will develop individual bots and their stories. In addition we will also initiate content creation by funding community driven projects through bounties that holders can vote on, and quests that they can partake in.

After a mint and reveal we plan to make the rigs and geometry available to holders. This asset pack will have a rigged character that is fully animatable in Maya and an fbx file that will work as a skeletal mesh in the Unreal engine or a plethora of other applications. Both will have high resolution textures. In addition we will provide tooling to easily export animation from Maya to Unreal. We are well aware that many non-professionals in the creator community don't use Maya to animate and so on our road map will be to make rigs available for other content creation packages including Blender. Although full interoperability is still a ways off, it is our north star for Bar Bot assets.
Being educators in addition to being artists, we welcome students of 3D and animation into the community by creating tutorials and resources to not only on board people into the blockchain, but also into 3D animation. In fact even before mint we will soon be offering the generic Bar Bot for free for anyone who wants to play with it.
We see these as digital toys. Like any purchaser of a toy, some will leave it in the package, or place it on a shelf, others will play with it for fun. Others will make art with it. Others will tell stories with it. Our hope is to provide a creative spark that allows the Bar Bots brand and vibe to proliferate.
Imagine the Bar Bots in the paradigm of a Lego set. Some people will buy one and keep it in the box and possibly sell it later. Some will build the set, put it on a shelf and enjoy looking at it. And others will make an animated short with it and post it on social media.
The blockchain as a mechanism for artists to see the full value they bring to creative projects
We are aiming to grow a decentralized studio built around shared intellectual property, where artists' creative contributions are ultimately tracked by smart contracts and can be properly compensated for their efforts, all verified on the blockchain. Many creatives, especially animators, are never given the opportunity to receive residuals. We believe that blockchain technology has the potential to change this and have many ideas on ways to implement it.
To do this we are launching characters that we believe will provide a rich opportunity for storytelling and creative expression. Our first line characters as mentioned are the Bar Bots, an evolution of our mascot Box Rocket Bot.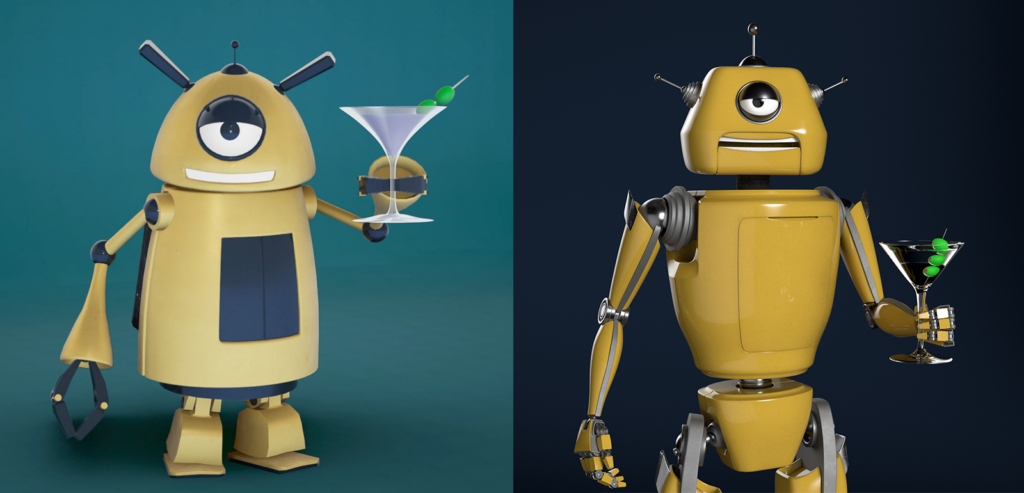 These characters will be assembled using a randomizer that generates unique bots that are made up of over 165 visual traits that include body, eyes, mouth, headgear, and finish as well as non visual traits that will describe personality.
We are looking for creatives and collectors who want to participate in our experiment in a decentralized studio, as well as anyone who finds the characters appealing and see the potential of creating brands on the blockchain.
So why drinking robots?
Well we are fans of the Happy Hour. We believe coming together with the intent of being happy is important. Happy Hour is where you meet friends, and scribble great ideas on the back of cocktail napkins, as well as tell and make epic stories. And robots, because until they become our mechanical overlords, who doesn't love robots?
If you are interested in joining us on this journey, come get your own unique mechanical happy hour friend. Our mint will be soon…

Welcome to Happy Hour